This article is for the group. For the reviews done before 2011, see Super Gaming Bros.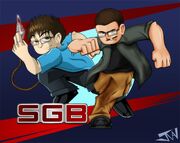 The Super Gaming Brothers are a pair of brothers Juan "Johnny" Ortiz and Elliot Cancel who, along with Johnny's best friend, Matthew create videos on YouTube. John also has a brother named Mark who has appeared in several videos for both Johnny's review channel and the LP channel.
Origins
[
]
The SGB originally started with just John and Elliot creating game reviews, however in 2011, Elliot decided to leave the SGB review show and left John to continue under a different name. Technically the SGB still exist, but they are out of the reviewing market. They later seemingly merged with Brainscratchcomms, though they are still a seperate group, and Johnny's review of Big Rigs: Over the Road Racing and Pokemon: The Trading Card Game proved that Elliot may still be a reviewer. This means they still do reviews, but nowhere as frequent as before, and each review including Eliiot and/or Matt is informally titled "SGB vs."
Members
[
]
Guests
[
]
Let's Plays
[
]
In 2010, Johnny and Elliot started up a Let's Play channel; SGB likes to play. Though Elliot left the review channel, he still helps out with the LPs. In 2011, the duo made a permanent change to a trio when they brought Matthew Metelli, Johns best friend, into the mix.