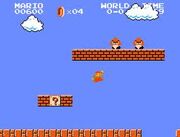 Super Mario is a video game franchise of Nintendo, and their flagship franchise. It features Mario in his quest to destroy Bowser and rescue the Mushroom Kingdom. Johnny's most memorable experience was when he played Super Mario bros. 3. His current favourite is Super Mario World, with a score of 9.5/10. His obvious least favourite is Super Mario Bros. the Lost Levels.
Reception
Edit
Since the original Donkey Kong game was released in arcades in 1981 the Super Mario series has sold 440 million video game related products and it is the best-selling video game franchise in the world. Mario games have usually received great reviews and when they release they become killer apps for whatever system they are released on. Other companies have created mascots similar to Mario to get high sales such as Sega and Capcom (they created Sonic and Mega Man) however to this day Mario has still sold more games and his games still get better reviews.
Community content is available under
CC-BY-SA
unless otherwise noted.