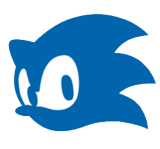 Sonic the Hedgehog is a series of video games created by Sega in 1991 that star a blue hedgehog named Sonic The Hedgehog, who is known for his super speed. Johnny's first experience with Sonic was actually in 1993 with Sonic the Hedgehog 2 when he rented it from either Blockbuster or West Coast Video, from then he went back to play the first game in the series. Johnny's favorite game of the series is Sonic 3 & Knuckles, giving it a perfect 10 out of 10 score. In the BrainScratch Commentaries playthrough of Sonic Genesis, he claims that to be the worst Sonic game, even stating that a bad port of a good game is more offensive than a bad game made from scratch. It seems that Johnny favours Sonic more than his rival, Mario.
Sonic games reviewed by Johnny
Edit
Sonic Boom: Rise of Lyric
Sonic Boom: Shattered Crystal
Characters
Edit
Community content is available under
CC-BY-SA
unless otherwise noted.