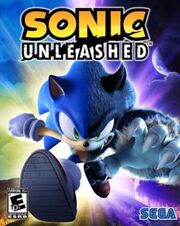 When Sonic Unleashed was released, Johnny did a 3D Sonic month of, quick looks on a series of 3D Sonic. He later did a review of Sonic Unleashed itself, as an epilouge to his 3D Sonic month.
SomecallmeJohnny
Edit
After Sonic Unleashed's intial release, Johnny performed a large scaled Month of Sonic3D in honor of the Blue Bullet's true reboot. It included the following:
Johnny later took all of the reviews down (excluding Sonic Unleashed), as he thought he did poorly for such notable games like these. While the majority of his reviews are no more, several youtubers have re posted his Sonic the Hedgehog (2006) review, and Johnny's most recent review of Sonic Unleashed were shown off in his recent channel Then and Now, where he re-graded the game. He would later pull off a Sonic the Hedgehog Marathon, which included all of the games he took down, as well as new-comer Shadow the Hedgehog. Sonic and the Secret Rings strangely didn't appear in Johnny's Sonic review reboot. His reasoning was that he already had enough to play, but he said to look out for it later down the road. He later DID review Sonic and the Secret Rings when he conducted a straw poll, where the game was pitted against new comers Knuckles Choatix for the Sega 32X, and Sonic and Sega Allstars Racing Transformed.
Community content is available under
CC-BY-SA
unless otherwise noted.