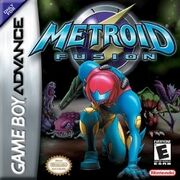 Metroid Fusion
is a video game released in 2002 for the GBA. Despite the success of Super Metroid, Samus went missing ever since, and when the 32-bit systems rolled in, Samus's only appearence was in the cross-over party game Super Smash Bros. However, with Sega and Sony rising in power, and Microsoft enetring the competition, Metroid Fusion was created as the handheld counterpart to
Metroid Prime
.
Released as the handheld counterpart for Metroid Prime, Metroid Fusion was released for the Game boy Advance. It received positive reviews but the games linearity was complained about by critics.
SomecallmeJohnny
Edit
Johnny featured this game in his month of Metroid, giving a positive score of 9.5/10. He stated that the game's only down point was the lack of non-linear style, as well as the difficulty level being low. After the review on Metroid: Zero Mission, he stated that this was beaten by Zero Mission only by hairlentgh, and is officialy his second favorite handheld Metroid game.
Community content is available under
CC-BY-SA
unless otherwise noted.